howdy!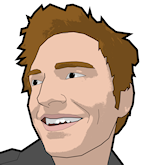 I'm Eric Undersander and I've been making video games for over ten years. I'm credited on six AAA titles including
Madden NFL
and
Kingdoms of Amalur: Reckoning
. I'm currently a lead developer at Stardock in Baltimore.
resume


LinkedIn Resume
demo video
A quick montage of some of my solo projects:
blog
Here's the takeaway of this whole post: For camera collision zoom, don't cast a ray. Don't cast a sphere. Cast the near face of the view frustum.
I've used Havok Physics at several game studios over the years and I thought I'd share some little-known but hopefully useful tips about this middleware.
More blog posts coming soon!
published!


PDF Download
I wrote a technical article about the third-person camera we built for
Kingdoms of Amalur: Reckoning
, with emphasis on my obstacle avoidance solution.
The Sticky Collision Beam
was published in the September 2011 issue of
Game Developer Magazine
.